Business Orientation

Comit places great emphasis on business orientation. Comit tracks its engineering productivity avidly -- in terms of two productivity measures called NRPE (Net Revenue per Engeneer) and NBT (Non-Billable Time). By constantly
monitoring these two parameters, and by working with several customers at a time, it keeps its productivity high. On the part of the engineers, this requires the abilities to keep current a diverse set of skills and quickly switch context by project.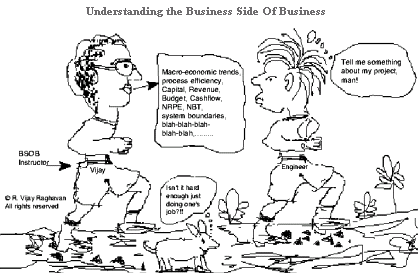 Comit Engineers must exhibit a strong sense of business, in terms of:

Financial & Corporate
Knowing Comit's Revenue & Productivity goals, understanding why Financial Goals and Discipline are important, learning how to read Comit's Income Statement & Balance Sheet, appreciating Comit's ongoing performance with respect to the economy, industry and its stated missions and goals, articulating Comit's policies on business and people to customers, newcomers, and others.

Project

coordinating resource allocation
producing status reports
maintaining logs of time spent on activities, for reporting and billing purposes

New Business

initiating new proposals
providing sales support
helping to negotiate, sign and deliver projects

Infrastructure

monitoring human and system resources
assisting in screening, interviewing and training of new engineers for projects
upgrading systems, infrastructure on a pro-active basis
Positions & Profiles

Open Positions
Job descriptions

Business Orientation

APPLY